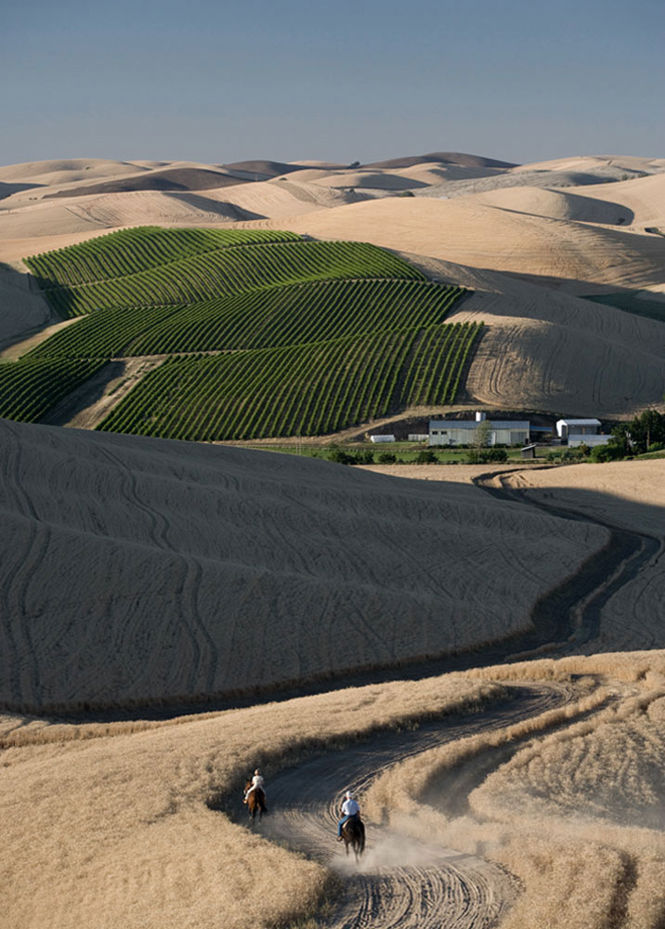 OUR VINEYARDS
Spring Valley Vineyard is situated 12 miles northeast of Walla Walla, spread amid the picturesque wheat fields of southeastern Washington with the Blue Mountains providing the backdrop.
WINEMAKER SERGE LAVILLE GIVES A VINEYARD OVERVIEW

The initial block of Merlot was planted in 1993 on a south-southwest facing hillside. The vines follow the north-south slope of the hills in vertical rows, an orientation that, combined with the declination of the slope, allows the vines to take optimal advantage of air drainage, sunshine, and the reflective nature of the surrounding wheat fields.
Great care is taken when caring for the vineyard. Every grape is tended by hand, including crop thinning, leaf pulling, and harvesting, as well as hand-burying individual canes to protect them from the cold winters of southeastern Washington.
In the summer of 2007, 66 acres of new vineyards were planted. Today, Spring Valley Vineyard consists of 111 acres of grapevines including Merlot, Cabernet Sauvignon, Syrah, Cabernet Franc, Petit Verdot, and Malbec.